Main content starts here, tab to start navigating
WELCOME! Hello Folks! We appreciate your interest in our restaurant. We'll keep you posted on our latest news & events. Thanks for visiting our site and hope you'll visit us in person soon at Taradiddles...The Taradiddles Team
NEWS & EVENTS
LIVE ENTERTAINMENT
Monday, Tuesday, Thursday, Friday, Saturday & Sunday Evenings
...and also on Sundays 11-2pm.
Please Check our Calendar(s) Below for our planned Entertainment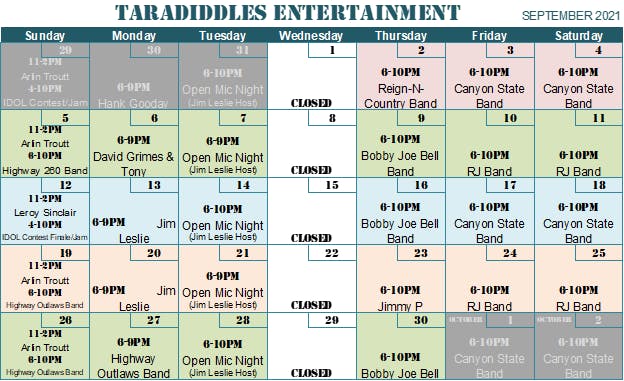 Yes, We Serve Breakfast!!
Monday-Friday: 8am to 11am (CLOSED WEDNESDAYS)
Saturday: 8am to 11am
Sunday: 7am to 12pm
See our hours and location page for other meal service times.
____________________________________
HAPPY HOUR
8am to 10am & 3pm to 6pm M, T, Th, & F (CLOSED WEDNESDAYS)
$1 off all domestic beers and well drinks.
When visiting us, please ask our Taradiddles Team about our
Cocktail & Daily Menu Specials.
______________________________________
BREAKING NEWS
COUNTRY JUNCTION IDOL CONTEST UPDATE!
Special thanks to all of our contestants that participated in this great community event. This year's singers were outstanding and very competitive!
Congratulations to our Top 3 Winners during the Contest Grand Finale on

September 12th:
Winner
Carmen Ruiz
Carmen took 1st Place and is the winner of this year's Country Junction idol Contest and the $1,000 Prize. She was also awarded 5 hours of free studio recording time courtesy of Bobby Joe Bell and Raven Studios. There are other future events and interviews for Carmen in the near future...we will keep you posted!
2nd Place
April Walker
April took 2nd Place and the $500 Prize Money. She was also invited for 2 hours of free studio recording time with Raven Studios.
3rd Place
Talon Gray
Talon won the $250 Prize Money, placing 3rd. He was also invited for, you guessed it, 2 hours of free studio recording time at Raven Studios.
Thanks Bobby Joe!!
____________________________________
IDOL SPONSORS
THANKS FROM THE TARADIDDLES TEAM
A Huge & Special Shout-Out to the very generous group of Country Junction IDOL Sponsors you see below. They are the ones that made this event possible and we can't thank them enough for their support ...A very grateful thanks and respectful "tip of the hat" to all of them...
...The Taradiddles Team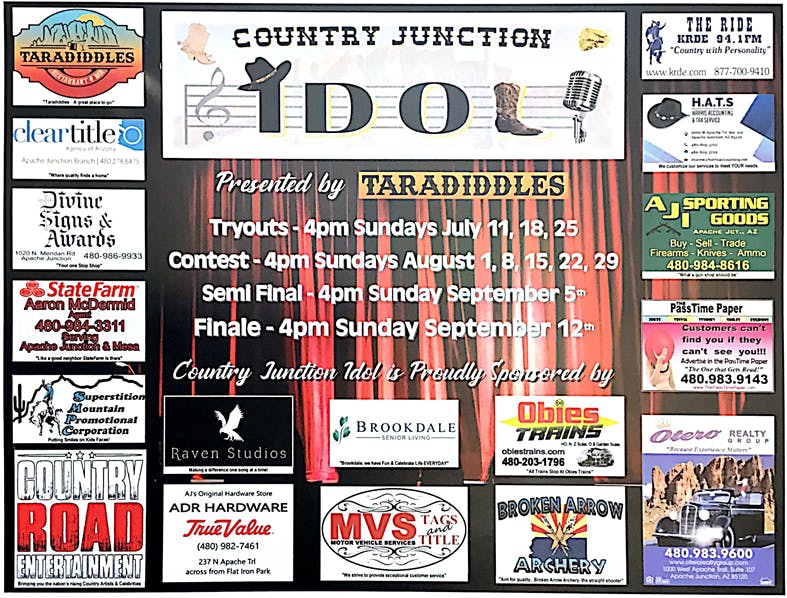 Another HUGE

& Special Shout-Out to our esteemed
Country Junction Idol Judges
____________________________________
IDOL JUDGES:
EDDIE SMITH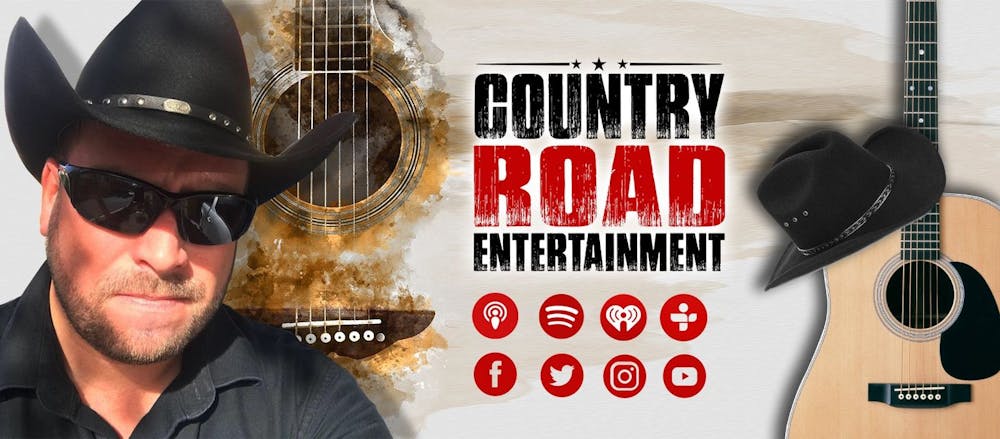 Eddie Smith came to Arizona from New Jersey in the 1990s. He purchased his first Fender guitar at age 14 and began playing with his first band in 1996 at age 16.. In the mid 2000s he became a Johnny Cash impersonator and played and sang around the Valley for five years. Eddie began playing and singing a variety of different Country and Rockabilly covers. In 2017 he opened his music promoting company; Country Road Entertainment. He works with local and up and coming artists from not only Arizona but the rest of the country. Eddie now has a YouTube Channel and a popular podcast that streams live regularly online. He also has decades of experience in technology, photo and video and uses those skills for his passion of music. Country Road Entertainment is also a proud sponsor of the Country Junction Idol contest.
____________________________________
SUE DOLAN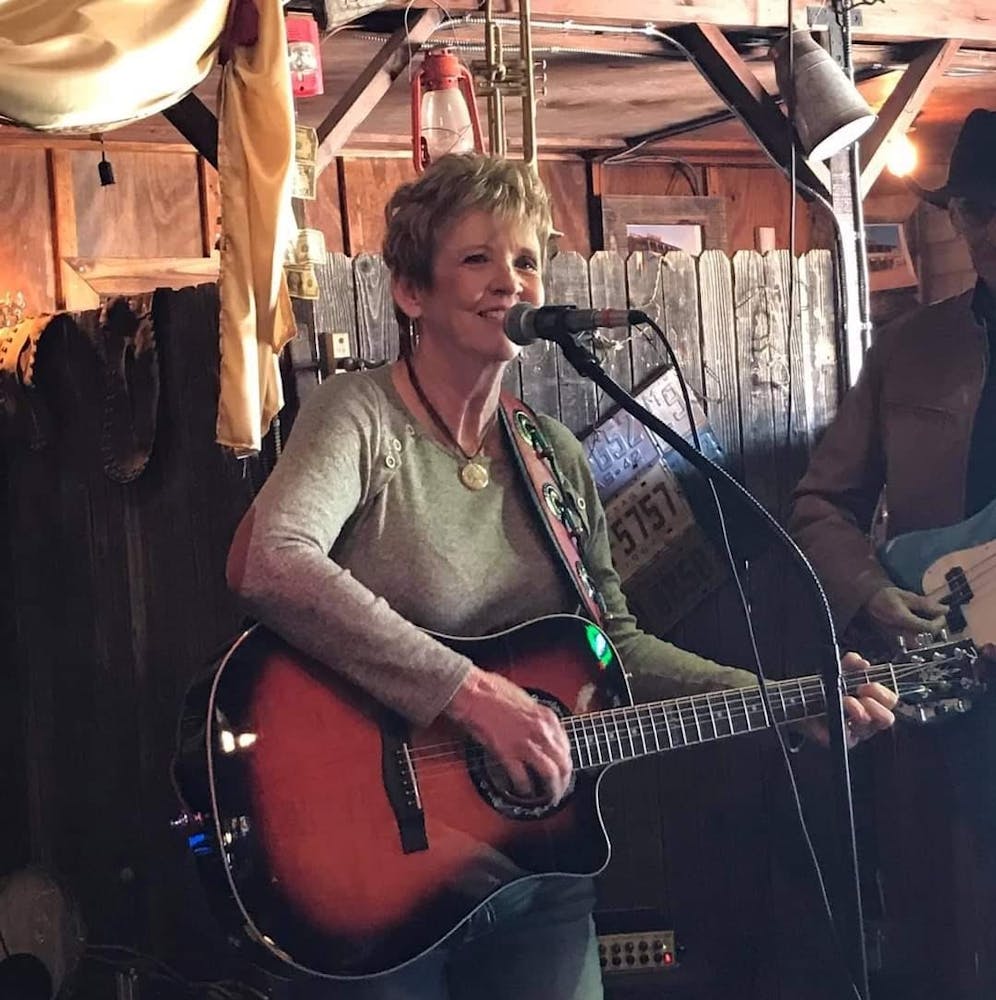 Sue Williams-Dolan has been entertaining for 12 years; singing and playing rhythm guitar. Sue learned to play guitar from her famous father Hal Williams, a well known entertainer. Sue is retired U.S. Navy. She has been entertaining in and around Apache Junction since 2006. Sue currently entertains solo and with her band, "The Rusty Wagon Band." Sue has been judging local idol contests for over 5 years.
____________________________________
KEVIN "DOC" FLETCHER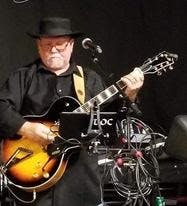 Doc has played professionally for 49 years. He toured with such names as Lil' Jimmy Dickens, The Drifters, The Statler Brothers, Buddy Allen Owens, and Ricky "Elvis" Saucedo. Doc is also a singer songwriter along with playing 9 instruments.
____________________________________
TO OUR GREAT CUSTOMERS AND IDOL FANS
THANKS FROM THE TARADIDDLES TEAM
Special recognition and a huge thanks to our great customers for your support throughout this event. Your support, patronage and enthusiasm were instrumental in the phenomenal success of the Country Junction Idol Contest and raising over $5,000 through Superstition Mountain Promotional Corp (SMPC) during the 50/50 Raffles each week. The money raised will help support our local school students in various extracurricular activities. We are humbled and wish to convey the greatest respect to you, our customers...
...The Taradiddles Team